he Acapulco chair (also known as the Cancun chair of the Lebasa chair) has been a clear example of traditional Mexican design for years and has been around since the 1950's. It originates from Acapulco in Mexico, the jet-set beach resort and "place to be" for the rich and famous during the 1950's and 60's such as Richard Burton, Liz Taylor and Elvis Presley.
Nobody knows who designed the Acapulco chair but legend has it that a French tourist was fed up with the uncomfortable heat in a solid chair under the hot Mexican sun. And so he created a chair based on the open-string concept of ancient Mayan hammock designs that he had seen in the area.
The chairs are still produced in Mexico, usually by hand in small workshops, by wrapping brightly colored vinyl cords around a metal, pear-shaped, frame. They may look uncomfortable, but believe me, once you are seated in one you don't want to get up anymore. The slightly elastic wires ergonomically cradle your body and the loose weave make you feel like you are floating on air.
The old school design combines ancient Mayan tradition with modern innovation. These chairs are retro with a modern air. They will add casual sophistication to any decor. Since there is no copyright on this design, multiple furniture manufacturers are producing this chair right now.
With the Mid Century vibe going on the last years, one could just wait for the Acapulco chair to show up as well. Last week I was visiting Copenhagen and I saw lots of Acapulco's lining the outdoor city-terraces. With their bright colors they totally cheered up the street scene. But the Acapulco chair feels just as much at home indoors as they do outdoors, as you can see from the images posted here.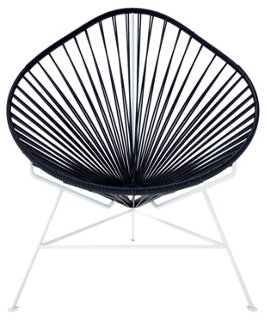 Mini Acapulco, Black/White – $218.00
from:
One Kings Lane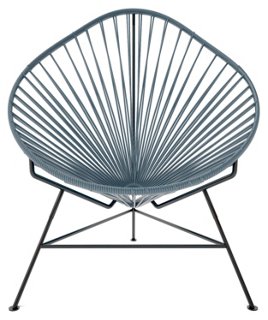 Acapulco Chair, Black/Gray – $399.00
from:
One Kings Lane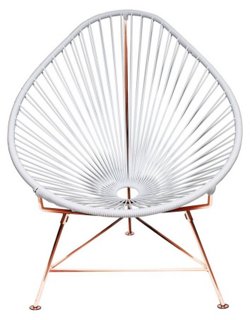 Acapulco Chair, White/Copper – $425.00
from:
One Kings Lane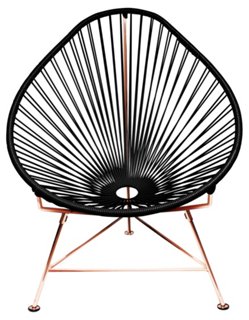 Acapulco Chair, Black/Copper – $425.00
from:
One Kings Lane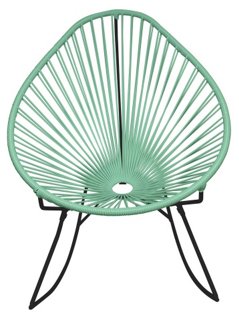 Acapulco Rocker, Sea Foam/Black – $450.00
from:
One Kings Lane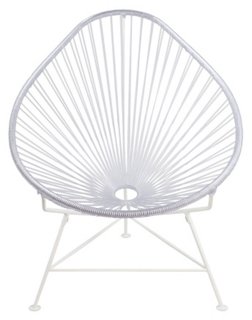 Acapulco Chair, Clear/White – $415.00
from:
One Kings Lane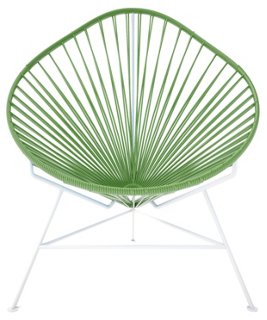 Acapulco Lounge Chair, Green – $379.00
from:
One Kings Lane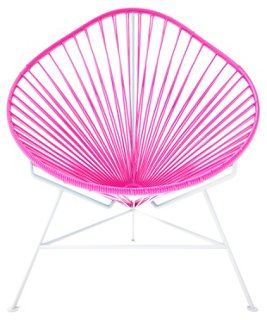 Acapulco Chair, Pink – $399.00
from:
One Kings Lane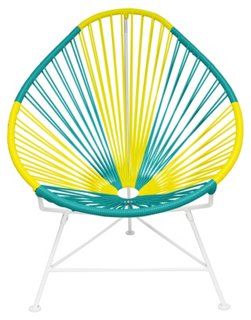 Acapulco Chair, Yellow/Turqoise – $399.00
from:
One Kings Lane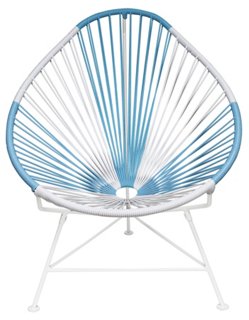 Acapulco Chair, White/Blue – $379.00
from:
One Kings Lane

Labasa Side Table, Candy Apple – $199.00
from:
One Kings Lane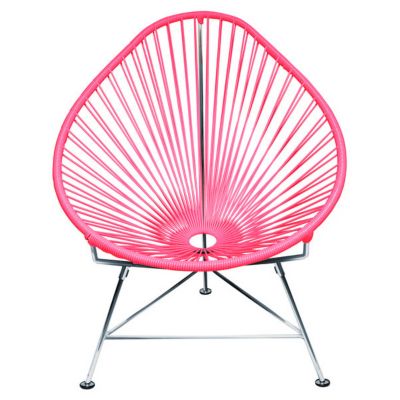 Baby Acapulco Chair by Innit Designs – $250.00
from:
Lumens.com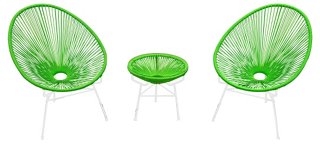 Labasa 3-Piece Chat Set, Lime Green – $649.00
from:
One Kings Lane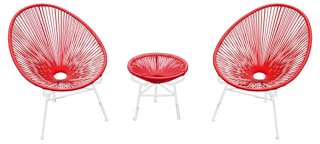 Labasa 3-Piece Chat Set, Candy Apple – $649.00
from: One Kings Lane
If you enjoy reading my blog, please consider giving my Facebook page a "like"
YOU MAY ALSO LIKE:
Design Icon Hans Wegner is of course not to be missed in my Design Icons series. He was the driving force behind the "Danish Modern" movement and helped change the general public view of furniture during the 1950's and 60's. During his  lifetime he designed more than 500 chairs, which…

he Panton Chair, also known as the S-chair, has been around since the 1960's. It is a creation of the Danish multi-talent Vernon Panton. Panton is considered to be one of Denmark's influential 20th Century furniture and interior designers. He worked mostly with plastics in bright and exotic colors. Born…